Acrobat and PAC 3 validation of Ultra Accessible PDF
To guarantee the quality of
accessible PDF at the fair price
For many years we have developed and improved our accessibility and PDF tagging techniques and now have developed a proprietary solution to accelerate the production of Ultra Accessible PDFs. This allows us to produce on a fast turnaround and at competitive costs quality PDFs. We have customers around the world, public or private companies, and meet the international standards defined by the World Wide Web Consortium (W3C), such as ADA, Section 508, WCAG 2.0 AA, HHS and PDF / UA. We are able to produce various accessible documents such as PDF, documents from the Microsoft range (word, Excel, Power point) or Epubs.
Our mission is to guarantee the quality of accessible PDF at a fair price. By choosing accessibility for all your content, you are helping to improve access to information for people with cognitive, visual, or physical disabilities – nearly one in eight people worldwide.
 All our Ultra Accessible PDFs are verified and certified with Acrobat & PAC3
Achieving an accessible PDF requires a rigorous, multi-step process. We have developed our own tagging expertise, with an analysis methodology combining both artificial intelligence and human control. During and after the tagging of the document, we perform user tests in two stages. All the accessibility criteria are scrutinized: presence and order of titles and columns of texts, accessibility of tables, diagrams and graphs, differentiation of images and illustrations, insertion of alternative texts if necessary. This method is labeled "e-accessible PDF."
You can send us InDesign source files (with fonts and assets) or the finalized PDF and we will take care of the full tagging of the document according to the standard PDF / UA (recognized ISO 14289-1: 2012).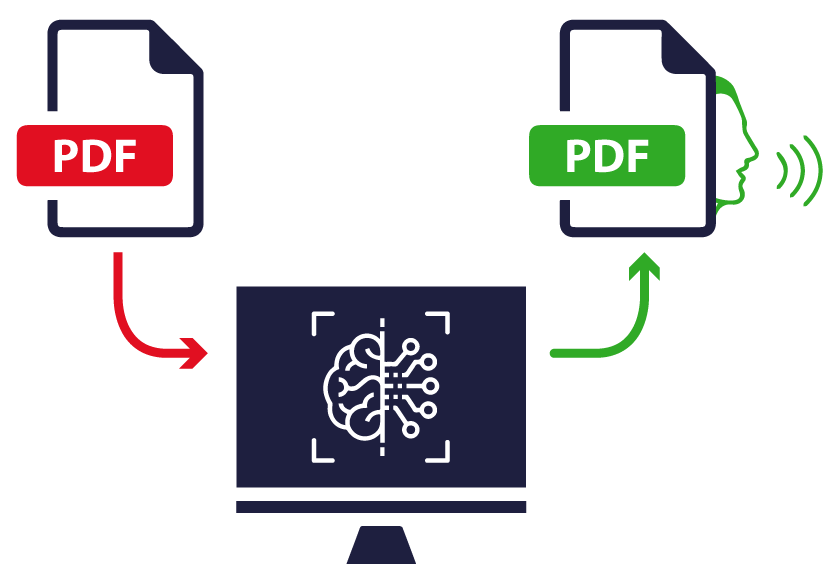 What are the benefits of the
Accessible PDFs we produce ?
FOR YOU…
PDFs that meet the following standards PDF / UA, ADA, Section 508, WCAG 2.0 AA, HHS…

Documents validated through user tests

Accessible PDFs directly utilisable

Quick production turnaround

A fast and customized service
FOR YOUR USERS
More user-friendly navigation

The ability to convert text to voice

Reading on different media (tablets, mobile, screen magnifiers)

Replacing mouse actions with keyboard combinations

The possibility of searching in images

A help to navigation
BENEFITS of Accessibility
Benfits of Accessibility
5 advantages for your activities
Increase your audience
With e-accessible PDF, you enable users with disabilities to access information just like any other user. Your activity gains more readers and also sympathy from all other users.

Social Responsability
Digital accessibility is a fundamental right of every citizen, including via the internet. Achieving accessible PDF is therefore part of an inclusive global approach for the general public and all your stakeholders. Better SEO
Among the 3 keys of SEO (accessibility, keyword optimization, clear navigation) accessibility plays a vital role because it transforms your content into indexable formats that Google will better reference. The more your content is numerous and relevant, the better your Search Engine Optimization will be. Compliance with legislation
The European directive entered into force on December 22, 2016. It implies that all websites, integrated digital documents (PDF) from public bodies will have to be made accessible according to a relatively restrictive agenda. A monitoring and complaints mechanism is also in place. Listed companies are evaluated by rating agencies. These provide an assessment of the quality of societal commitments and one of the criteria for analysis is the accessibility of communication and data to all stakeholders.
Converting
source document

Thanks to our proprietary, E-accessible PDF application, we are able to convert all your documents even faster. With the same process as for a PDF, we propose to convert your Microsoft Word, Excel, Power Point or Epub documents into accessible documents.